Caring for dialysis patients
All dialysis journeys are unique, life-changing and will transform your everyday life. This is not only true for those living with the condition – it also affects those who provide care and support throughout the journey, also known as caregivers.
Caring for someone with chronic kidney disease (CKD) can be both a challenging and rewarding experience. You may feel anxious about your loved one being ill or being able to provide them the help and support they need. This is normal. Just remember that taking care of yourself is just as important. Understanding the impact of this journey, the different therapy requirements and the new routines you can expect will prepare you to cope with challenges and enable both of you to live your lives to the fullest.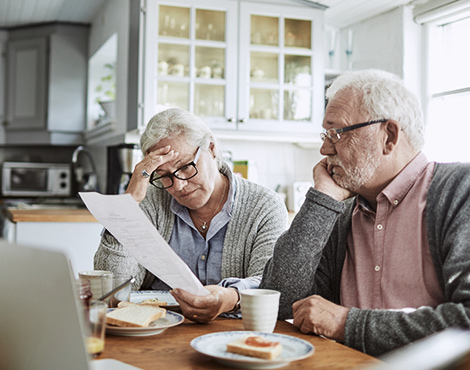 Coping with your emotions and lifestyle changes
Caring for someone starting dialysis can be life changing for you, too. At first, it may feel like a tremendous amount of change, but as you get into a routine, most tasks will become daily habits. There are several ways that may help you better adjust to your new role, your feelings and the impact dialysis can have on your lifestyle. 
Acknowledge your feelings
At first, dialysis brings many changes to your life, and there might be days where it feels like there is too much to manage. As a result, adapting your lifestyle to care for someone on dialysis can sometimes feel like an overwhelming experience.  Acknowledge and discuss the difficult aspects of your role with the one your care for, their healthcare team and those you are close to. Caregiver support networks might also be a helpful resource for you, as you can connect with others who are experiencing similar challenges.
Planning and scheduling are key
There are different dialysis treatment options but one thing that most have in common is the importance of sticking to a treatment schedule. For some dialysis treatments, such as with in-centre haemodialysis (In-Centre HD), sticking to a set dialysis schedule is crucial. For home haemodialysis (Home HD) and peritoneal dialysis (PD) treatments, there is often more flexibility in terms of when and how often you treat. It is therefore a good idea that early on you familiarise yourself with the schedule and help make sure it is adhered to. Be sure to talk to your healthcare team about whether scheduled treatments are part of your dialysis journey. 
Understanding your new normal
Even though things will change in your life, life does not stop at the diagnosis. Actually, it is quite possible to live a life close to what you are used to. But dialysis will require lifestyle changes for you and the person you care for. This may include changes to diet, exercise, travelling and potentially work-life depending on the specific dialysis therapy. You can read much more about the impact dialysis can have on everyday life.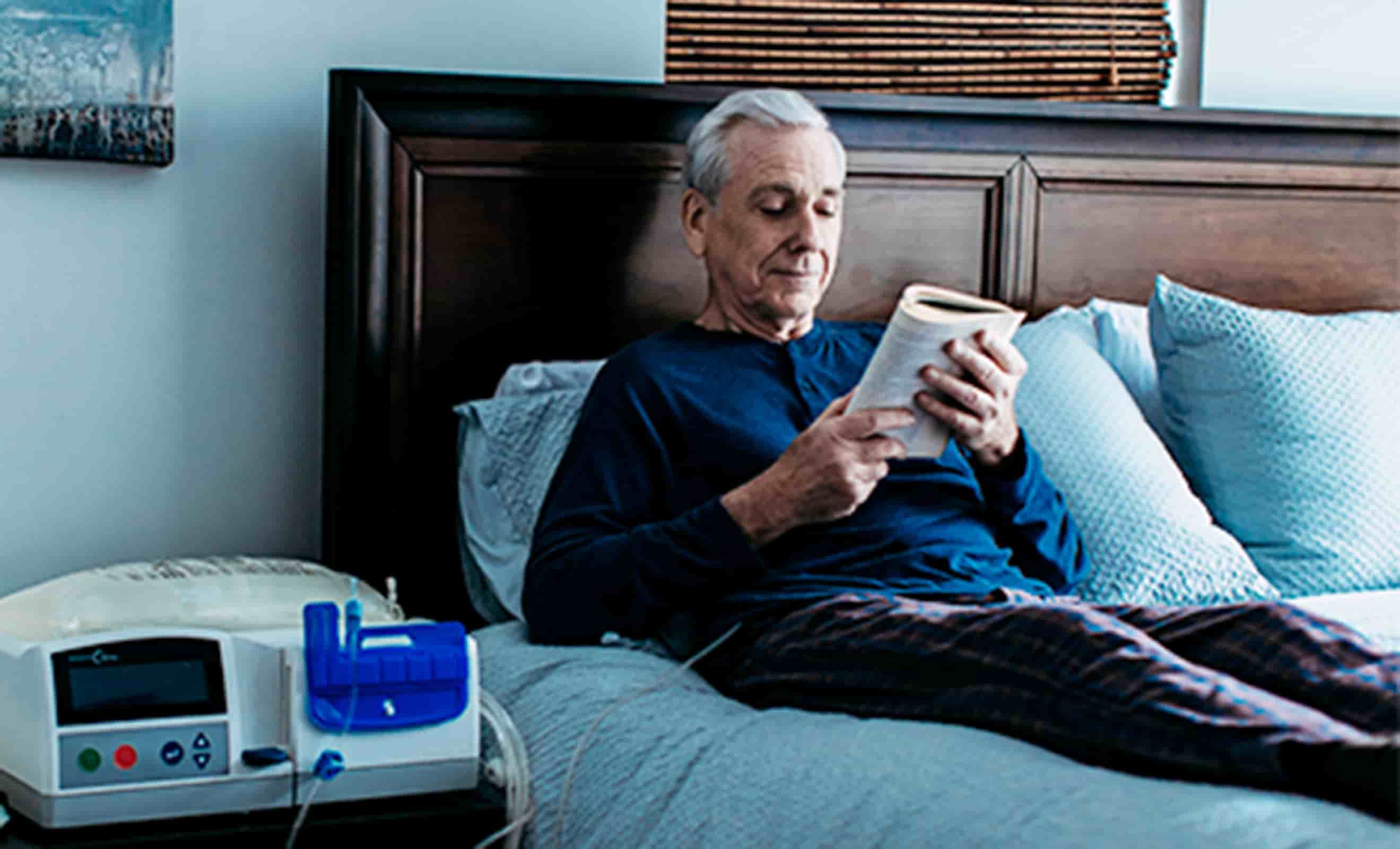 Understanding your role in supporting peritoneal dialysis (PD)
If the person you are caring for is considering peritoneal dialysis (PD), it means that he or she will be doing their treatment at home, quite possibly at night, overnight. There are many advantages to beginning on home-based PD and a few ways you can help make the most out of these advantages.
Getting to know a new language
When the person you care for begins peritoneal dialysis, you will encounter many new words and phrases. One of the most important is "peritoneum." The peritoneum refers to the part of your abdomen that is used in PD as a natural filter to mimic the abilities of a kidney in peritoneal dialysis. This is just one of many phrases you will probably hear along the way, along with exchange, cycler, catheter, and many other terms. Learning these may help you feel more in control. You should never hesitate to ask the healthcare team if there is anything you need explained further.
Changes at home
Peritoneal dialysis requires many different items that will need to be stored at home, for example fluid bags. You will need to make adequate room for these in a clean and dry space. You will also need to frequently have these replenished, typically through a delivery to your home. Making a plan for how and where to store these, and making space for the supplies, might be helpful in your preparation as a caregiver.
Sleeping and new bedside routines
PD exchanges may take place during the night, with a dialysis machine next to your bed. The set-up and the dialysis machine will create some light and noises, and it is possible that you will notice these things while you sleep. It may take some time to get used to, but it will become familiar over time. If possible, attend a training session where you can see (and hear) the process to familiarise yourself with the new routines.
The importance of cleanliness
Peritoneal dialysis requires a catheter to fill and drain the liquid that cleans the blood (dialysate) during each exchange. It is crucial that the exit site and the catheter is kept clean. It can be a good idea that you participate in the consultations, so that you can share the responsibility of keeping a high level of cleanliness and understand what is needed to do to maintain a healthy exit site.
Keeping yourselves active
Like anyone else, people on dialysis feel and do better by staying active. You can participate in many activities together and you should encourage the person you care for to keep being involved in their work and hobbies. Just be aware that you should always speak with their doctor to ensure that this activity is right for them.
It's OK to take some "me time"
Caring for dialysis patients can be challenging for you both emotionally and physically. Getting out of the house and spending time with others is a good way to take a break, talk about your feelings and can help keep your energy up to stay positive. You can also find out if being part of a caregiver network is something for you. Make sure to find the balance that is right for you.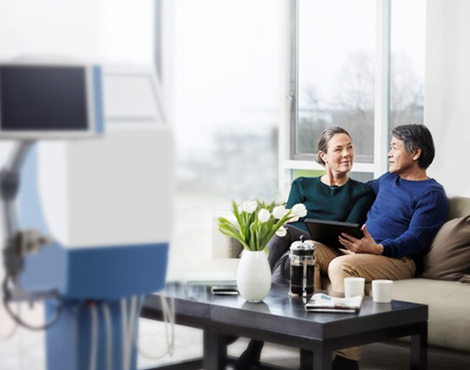 Caring for someone on home haemodialysis (home HD)
If the person you are caring for is to undergo haemodialysis at home (home HD), you will play an active role in their care. From making changes in your plumbing, helping them undergo treatments or keeping a schedule – discover the impactful choices you may have to help make.
Your home may need an update
Home HD requires ultra-pure fluids. This means that you may need to make changes to the plumbing in your home to provide the water quality this needs. You will need to speak to your healthcare provider about water requirements and they will organise this for you.
Your role is critical in caregiving
Home haemodialysis can be done several times a week for 3 to 8 hours at a time and typically cannot be done alone. This means a large commitment from you as you may need to be there to assist your loved one every time, depending on the hospitals policy. Consider creating a schedule together, so that both your needs are met.
The use of needles is required when undergoing home HD. The healthcare team, your loved one, and you, will agree on a training plan to determine the best process of how to needle for therapy, and how to manage this in your home.
Settling into a new routine
The person you care for may choose to do their dialysis during the day or throughout the night. There is some flexibility surrounding when they perform their treatments, but it is important that they undergo the entire treatment each time, so learning how to complete all the different steps is helpful. Being there during dialysis can be a good support and can help ensure treatments are carried out safely.
Getting comfortable
The decision of where in the home the person you care for should undergo HD is important. They will be spending many hours in the same location so it should be comfortable for the both of you. Make sure you choose a location that does not interfere with other daily routines and can offer sufficient comfort throughout the treatments.
Keeping track
It is important that you take notice of the details of what is happening in the life of the person you care for so you can support them in discussions with their doctor. Such as;
Other symptoms such as cold or flu
Changes in sleep patterns
Difference in mood or behaviour
What limitations you see in their activities
Any questions that arise from you or the person you care for
For some, it could be helpful to keep a diary of changes to make sure you are capturing important details. 
Staying well-equipped
Home haemodialysis requires dry storage space for supplies. You will need to select a location that works for both of you and you'll need to make sure there is enough supplies for at least a week of treatments. Making a plan for where and how to store these supplies may help you prepare for supporting home HD.
Give yourself a break
Your role in your loved one's care is very important, so it is essential that you take some time for yourself and continue to do the things you enjoy on your own. This helps relieve stress and can do wonders for your energy levels and mood. If you want to, search for local caregiver support networks, where you might find additional help and advice.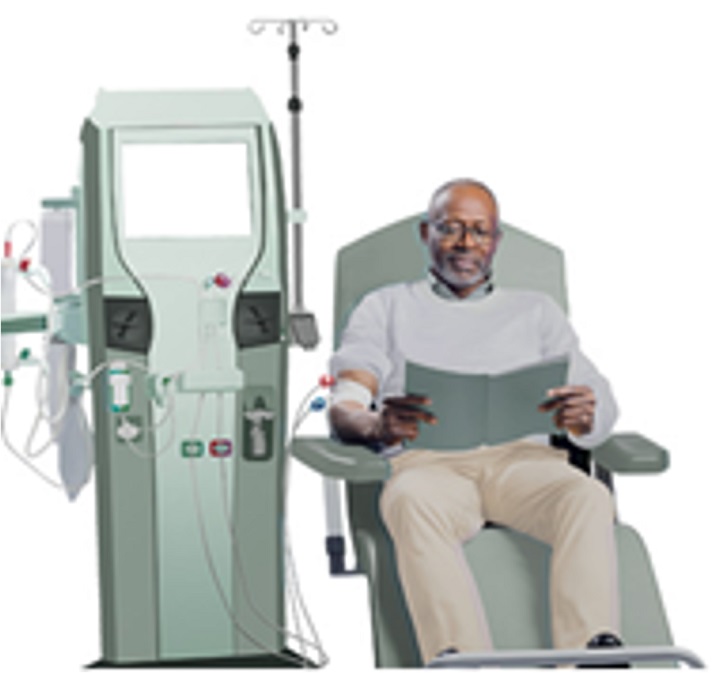 Helping care for someone on in-centre haemodialysis (in-centre HD)
In-centre haemodialysis is a treatment option many people choose for their dialysis journey. There are certain things you should know to help care for them, and yourself along this path. Firstly, in-centre dialysis can be done several times per week and last 4-5 hours for each session. This is a commitment you both need to prepare for. 
Getting to and from the clinic
As the person you care for may be fatigued or unable to drive to and from the clinic, you may need to transport them. It helps to be ready in advance to drive them on their treatment days or have organised other means for transporting them to their appointments. For patients needing to travel by hospital transport, this may mean being picked up, up to two hours before dialysis and waiting for transport afterwards to take them home.
A new and private aspect to their life
The person you care for will be spending a lot of time at their dialysis centre and will develop new relationships with people at their clinic. This means that they will now have a large quantity of their life that you will not be a part of. You may feel left-out and this is perfectly normal; it helps that you discuss your feelings with them and those close to you.
You will have more time to yourself
As the person you care for will be spending many hours at the clinic, you can take this time to do things for yourself. Whether it is getting things done around the home, staying active or spending time with friends, use this time to focus on what makes you happy. This is a key differentiator for in-centre HD vs. home haemodialysis (home HD).
Ask as many questions as you like
At the beginning, you will have to make many choices and there will be a lot of new information to process. It is perfectly normal to ask many questions or feel confused. The healthcare team at the clinic should take the time to address these with you. Just know that in time, dialysis will become routine and familiar.
Be the eyes and ears at home
It is important that you take notice of the details of what is happening in the life of the person you care for so you can support them in discussions with their doctor.  Watch out for areas such as:
Illness symptoms such as cold or flu
Changes in sleep patterns
Difference in mood or behaviour
What limitations you see in their activities
Issues that need to be addressed with their health care team
For some, it could be helpful to keep a diary of changes to make sure you are capturing important details. This can also help you cope with the changes.